Outpatient rehab in Boston offers people the convenience to carry on living as usual while they heal from drug or alcohol addiction. These programs are less stringent, therefore making them suitable for mild or short-lived addictions. They are also well-suited for those who have finished inpatient treatment and are prepared to apply their learned skills toward sustained sobriety. Different types of outpatient rehab programs are available, based on the individual's requirements and phase of recovery. Continue reading to learn everything there is to know about this effective addiction treatment option.
What is
Outpatient

Rehab?

Treatment for substance abuse that doesn't necessitate a person to stay overnight at a healthcare facility or residential center is known as outpatient rehab. This is a viable and flexible solution for people who are striving to confront their addictions and heal. Although it is not as intense as inpatient or residential rehabilitation, outpatient rehab programs involve various therapeutic activities and services and can take place in various locations. Outpatient rehab allows those receiving treatment to stay in their own home, or in a secure and therapeutic setting like a sober living facility, while continuing to go to work or attend school.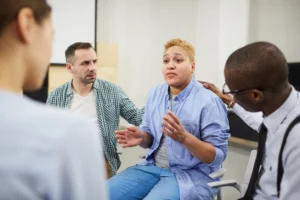 Outpatient treatment can offer individuals the correct amount of attention for their particular condition and access to experienced assistance and oversight based on the seriousness of their substance use disorder, their own strengths, objectives, and treatment intentions. Outpatient care may incorporate multiple therapeutic interventions and aid services, including individual and group counseling, educational programs, recreational or occupational therapy, psychotherapy, family therapy, medication-assisted treatment, and other treatment services. Treatment plans are determined and allocated depending on the program's options and the patient's requirements.


How Does
Outpatient

Rehab Work?

Generally, people who have a strong aspiration to overcome their addiction, need a flexible timetable, are not taking drugs through injection, and may be considered as having good functioning capability prefer to go for outpatient programs.

Patients in outpatient rehab must attend a medical facility, hospital, mental health center, or behavioral counselor on a fixed timetable during certain hours and days of the week. Some outpatient rehab plans offer evening and weekend visits, which makes it easier for patients to sync their treatment with their personal, family, or professional commitments.

Every outpatient program will provide particular weekly activities to assist those recovering from addiction. There are a number of groups they can take part in. Support groups, such as Alcoholics Anonymous, are regularly available. These gatherings give individuals an opportunity to connect and receive emotional support.

Treatment centers offer both individual and group therapy. Group therapy provides an opportunity for individuals to explore their emotions with peers. In addition, outpatient rehabilitation centers may provide courses on managing stress, preventing relapse, and learning how to reject drugs or alcohol.
How Long Does
Outpatient

Rehab Last?

The length of time needed in outpatient rehab should be determined depending on the person's individual situation. Variables such as the type and intensity of the addiction, co-existent mental health issues, age, gender, and others should all be considered. One of the most crucial elements in maintaining sobriety and avoiding relapse is remaining in an outpatient treatment program for a more extended period. The amount of time a person needs to spend in outpatient rehabilitation can differ from one individual to the next, with most programs lasting either 30, 60, or 90 days.
Outpatient

Rehab vs

Inpatient

Rehab

When it comes to treating substance abuse problems, there are two main forms of rehabilitation – inpatient and outpatient. Inpatient programs, also called residential treatment programs, provide intensive care for those struggling with severe addictions. Patients in these programs stay at the facility full-time. Outpatient treatment, meanwhile, is geared towards those who have more flexibility and need to keep up with work or school. This type of program is part-time, allowing individuals to attend sessions without disrupting their day-to-day lives.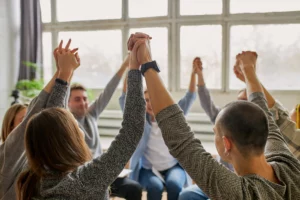 People who enroll in inpatient recovery programs to manage substance abuse and mental health disorders, as well as other disruptive habits, must live in a secured setting. This is a residential treatment center that offers round-the-clock clinical and emotional care. Residential treatment centers come in various forms, from those that resemble a hospital to those that provide a more luxurious, spa-like experience. Despite the differences in the facilities, the common thread is 24-hour assistance.
Benefits of
Outpatient

Rehab in

Boston

The time and methods employed in outpatient rehab fluctuate depending on the person's requirements. A lot of those in outpatient rehab have already taken part in a more intensive form of treatment, like residential or inpatient treatment. Others may appreciate the suppleness an outpatient program provides and don't feel the need for the rigidness of a higher level of care. The following are some of the many benefits of outpatient rehab in Boston:
Flexibility
Residents of North Carolina who are receiving outpatient rehab have the advantage of being able to remain in their local area, close to their support systems. Outpatient care offers more flexibility, with plans that can be tailored to people's lifestyles and commitments. This means that those in outpatient rehab can still attend work or college, and never need to be away from their home or loved ones for treatment.
Quality Care
Outpatient rehabilitation offers a high standard of care. Treatment is over a shorter period compared to a residential, partial, or intensive outpatient program. Consequently, all the treatment time is utilized for evidence-based activities. Professionals in the field, such as experienced therapists and doctors, provide treatments in a condensed timeframe. People can receive quality care while still being able to take part in their regular lives.
Privacy
Outpatient rehab is more convenient than inpatient treatment, enabling individuals to stay at home and keep in touch with their friends and family. Different from residential treatment, people in outpatient programs do not have to take time off from their jobs, giving them an extra layer of confidentiality if they do not want to tell anyone they are undergoing rehabilitation.
Affordability
Outpatient treatment plans are usually less expensive than more intensive forms of therapy. Individuals who don't have the means for inpatient or residential rehab may be able to get help through an outpatient program. It is a viable choice for those who have already gone through a more advanced course of care.
Is
Outpatient

Rehab Right For Me?

To achieve a successful recovery in an outpatient setting, one must be dedicated to the process. This kind of treatment is more successful for older adults who have a strong home support system and are determined to make a positive change. Generally, teens and young adults are more likely to benefit from a therapeutic community such as that found in an inpatient program. It can be hard for these individuals to remain sober when surrounded by friends who cannot relate to their situation or hold them accountable to their sobriety targets.

It's not to assume that outpatient programs are only suitable for adults and have no effect on teens. The reality is that there are some adults who have difficulty adhering to the commitments of outpatient treatment, just as they would in a residential program. There is no specific set of rules that determine when and who outpatient treatment would be the most beneficial for. Generally, a successful outpatient program requires dedication and commitment from the addict, family, and treatment team. If all these components come together, it can create a strong groundwork for long-term sobriety.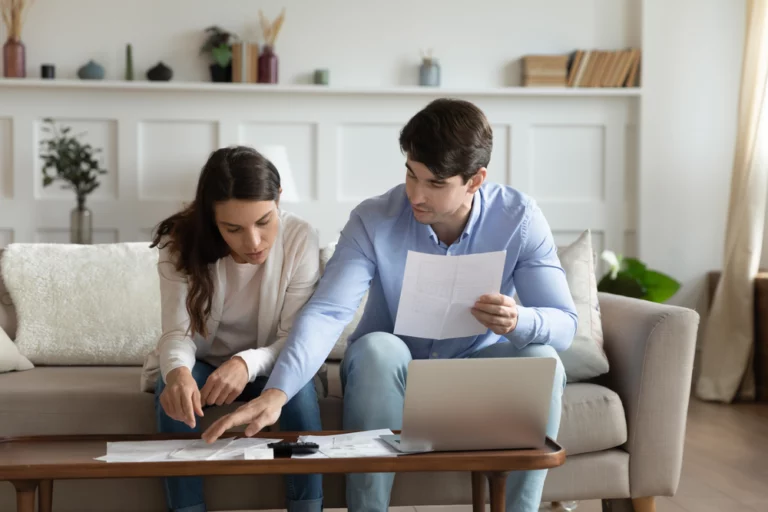 How Much Does
Outpatient

Rehab Cost?

You have concluded that an outpatient rehabilitation program is the most suitable choice for you and your specific circumstances. The next step is to identify how much it would cost. The price fluctuates depending on the kind of treatment, and whether you are paying out of pocket or are being covered by your insurance. As is the case with any other medical service provider, the rates for the same services at outpatient rehab centers do not all match.

Most insurance policies include coverage for outpatient rehabilitation to some extent. Therefore, the question should be how much is the cost of outpatient rehabilitation after insurance claims have been filed? When utilizing insurance to finance addiction treatment, there are additional factors to consider. You must determine if the provider is participating in the network or is out-of-network and if you are restricted in terms of the number of visits or days of treatment for addiction that are covered. Generally, reliable addiction treatment programs accept major insurance plans.
Outpatient

Rehab in

Boston

Here at East Coast Recovery, we recognize how important it is to find the correct rehab program if you or a family member are striving to overcome addiction and better your health. If you or someone close to you needs help for alcohol or drug addiction, please reach out to us. In our Cohasset facility, we provide personalized treatment plans to meet the needs of all of our clients.

East Coast Recovery provides multiple treatment plans that include intensive outpatient care, partial hospitalization, and post-treatment support. Our evidence-based and multidisciplinary methods of treatment help people regain the physical, mental, and psychological well-being that was lost due to addiction. Furthermore, our therapeutic and holistic treatments also aid in the recovery process.

Contact the experienced professionals at East Coast Recovery right away to find out about the wide range of programs and services we offer. You don't have to fight the effects of addiction by yourself anymore. We will provide you with constant assistance and guidance during your journey.