What is Adventure Therapy?
Adventure therapy, which combines evidence-based, experiential therapy with recreational activities and wilderness expeditions to boost an individual's physical, social, spiritual, and mental health, was created in the 1960s. Individuals, groups, and families can benefit from adventure therapy as they overcome substance abuse issues, behavioral problems, or mental health issues. Adventure therapy is a highly efficient approach, and the adventure therapist uses a variety of tools to actively engage clients. When clients take up rock climbing, for instance, they can express their need for interdependence or express their desire for independence without fear. Adventure therapy allows for reflection and growth while keeping active.


Who Should Consider Adventure Therapy in Boston, MA?
Research has revealed that adventure therapy can assist a wide range of individuals of all ages. While research in this area has traditionally focused on youth (particularly troubled youth), this does not imply that adults cannot benefit from adventure therapy. It simply indicates that behavioral issues among youth treatment programs are more extensively studied.
Adventure therapy is also beneficial in treating substance abuse among all age groups. Adventure therapy for substance abuse treatment encourages people who struggle with addiction to confront their perceived limitations, guilt, and other overwhelming emotions in order to enhance their self-esteem. Adventure therapy can benefit the following people:
Individuals suffering from anxiety

Individuals struggling with a substance use disorder

Trauma survivors

Those suffering from eating disorders

Individuals with low self-esteem

Individuals struggling with depression
Who Should Not Participate
Every person has a different experience with drugs and alcohol, so addiction treatment must be personalized. You may decide that adventure therapy isn't the best option for you. It's important to note that physical disability doesn't necessarily preclude you from participating in adventure therapy. The principal advantage of this approach is its exposure to nature and some degree of risk. These activities may be tailored to suit any level of ability or expertise.
Adventure therapy, despite its positive effects, should be weighed for potential dangers. Some individuals battling with addiction may not like being out in nature. Some may be wary of being outside because of anxiety. Others may not be able to participate in outdoor activities because of health issues that don't necessarily prevent them from doing so but may make them less enthusiastic. Examples of individuals for who adventure therapy may not be a good option include:
Individuals with heart problems

Individuals with breathing issues

Senior citizens

Young children
How Does Adventure Therapy Work?
Adventure therapy employs structured activities that promote physical, social, and psychological well-being as a method of rehabilitation, development, and enhancement. Adventure therapy uses a combination of traditional therapy techniques and activities. It is often practiced in a group or family setting and involves the use of the environment to motivate individuals to change by engaging them in cooperative games, trust, problem-solving activities, high-adventure activities, outdoor pursuits, and wilderness expeditions. After each activity, the group processes or debriefs in a group setting. During processing or debriefing, participants are assisted in internalizing the experience and connecting it to treatment objectives.
Low-risk activities like caving can be used to help the patient explore the insides of caves and feel the sense of mystery in discovering the unknown. Paddle boarding is an activity where the individual stands on a board and paddles. In this activity, they can practice the feeling of freedom while maintaining control. Rock climbing allows the individual to exercise the self-reliance and persistence necessary to climb. Group activities like canoeing encourage communication and teamwork, and finally, camping helps people survive in different environments and encourages people to trust and cooperate with others.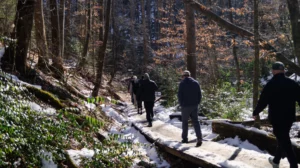 Is Adventure Therapy Safe?
Some people are of the opinion that adventure therapy is dangerous or unsafe. The notion that it emerged from a few "boot camp" programs in the 1980s and 1990s. Some early programs were well-intentioned but unsafe, and as a result, a number of states created licensing regulations for outdoor youth programs to ensure a high level of safety and a positive therapeutic experience as a result of stringent safety regulations.
Types of Adventure Therapy
There are three main categories of adventure therapy: wilderness therapy, adventure-based therapy, and long-term residential camping. Even though the structures may differ greatly, the objectives are the same.
Wilderness Therapy
Group-based expeditions typically take place in remote wilderness settings and last for multiple days. Unless someone drops out, the group remains the same throughout the process. Wilderness therapy programs are often based on Outward Bound programs.
Adventure-Based Therapy
Individual or group counseling sessions might be provided on-site or near-site for individuals undertaking lengthy treatment programs like intensive outpatient therapy or inpatient residential treatment. The groups may vary as patients come and go, and sometimes the activities are more artificially constructed (for example, rock climbing walls at a therapeutic institution where the setting is more constructed than in a "real" wild setting).
Long-Term Residential Camping
Individuals are placed in outdoor camps or "mobile learning units" (such as learning to sail on clipper ships) for a very long time, typically a year, to learn how to establish a positive peer culture, solve everyday living problems, and cope with the natural results of their actions.
Adventure Therapy vs. Wilderness Therapy
A mistake often made is to think of adventure therapy as the same as wilderness therapy. Weather and landscape are the only elements of wilderness therapy, whereas adventure therapy often employs man-made challenges. The primary focus of wilderness therapy is endurance and adaptability, whereas the emotions and physical challenges of adventure therapy are primarily concerned with emotions.
Adventure Therapy for Addiction
Wilderness therapy may be an extremely effective adjunctive therapy for certain types of substance abuse patients, particularly substance abusers with psychological issues who are isolated and uncooperative in their therapy. The use of wilderness therapy challenges clients to work together, achieve goals, and improve overall behavioral health. This fosters self-examination, openness, and communication. Although wilderness therapy is an excellent supplementary treatment, it is not meant to be the sole focus of treatment for someone with a substance abuse problem or other mental issues.
Adventure Therapy vs Behavioral Therapy
Adventure therapy is more of a hands-on experience than other therapies. Cognitive-behavioral therapy, for instance, is a traditional talk therapy in which the therapist speaks with the client. This session does not have to occur sitting across from one another in an office, but it often does. Group therapies such as dialectical behavior therapy, are also focused on talking. You are taught behavioral skills that you can use in various situations and for the long term. These methods are based on cognitive change, which alters your moods and behaviors.
Talk therapy, the more traditional approach, has demonstrated its capacity to make long-lasting changes. Is adventure therapy capable of making lasting changes? The answer, according to research, is yes. Because adventure therapy is time-limited, its positive effects may be best sustained if people continue to practice mindful adventure as a relapse prevention method.


Benefits of Adventure Therapy in Boston
Adventure therapy provides a range of advantages. It allows participants to experience the positive and negative natural consequences of their choices, thereby increasing treatment involvement. Other benefits include:
Improves Mental Health
Numerous research has proven that being in nature has a positive impact on mental health issues such as anxiety and depression and that natural environments are calming. Those with addiction and alcohol dependency typically also suffer from mental health issues, so any time spent in nature is beneficial while treating addiction.
Improves Self-Esteem
Addiction and substance abuse are frequently caused by low self-esteem. Adventure therapy helps those with addiction by encouraging them to venture outside of their comfort zones and accomplish things they had never thought possible. Strenuous hiking, white water rafting, rock climbing, and other difficult activities are often used as a means of personal growth, especially for young adults. Personal development, self-esteem, and self-efficacy are all enhanced when people frequently utilize outdoor therapy and activities as coping strategies.
Therapeutic Benefits
Coming together as a group or family to experience adventure therapy is a great way to strengthen connections. This type of therapy can also be beneficial to individuals going through rehabilitation or to families who want to support loved ones with addiction issues. Having physical activity as part of group therapy, whether with addiction treatment, has many advantages.
Sense of Community
The most significant factor in the future of recovery is the ability to heal. A community is created during group adventure therapy sessions, which helps people with substance use disorders remain sober for the long term. Although adventure therapy's physical demands are beneficial on their own, cooperation is an ancient and reliable method for building rapport, communication ability, and meaningful connections. During adventure therapy, social and other life skills are also constructed.
Prevents Relapse
When people suffering from addiction do not possess the proper coping abilities, they are prone to relapses. It is crucial for addicts to create new behaviors and routines in order to recover. Adventure therapy is an excellent choice for addicts because it releases stress and energy, from which they may experience a unique sense of adrenaline. It is an excellent alternative to detrimental influences, whether or not it occurs during treatment. During the course of treatment, adventure activities and therapy produce excellent results.
Adventure Awaits at East Coast Recovery

Everyone's path to recovery from substance use disorders is unique, and substance abuse treatment strategies must reflect that reality. At East Coast Recovery Center, we hope to assist those in need of assistance with substance abuse to achieve long-term sobriety and a better life. Please contact us for more information about adventure therapy or any of the other treatment options we offer. We look forward to your call.