If you've never heard of fish scale coke, this article is for you. Cocaine can take many forms, and most people aren't sure how pure the cocaine they just bought from their dealer really is. Some people don't care what's been added to their cocaine as long as it gets them high. However, long-term cocaine users or new timers can start looking for the purest cocaine they can buy and might turn to dealers who sell "fish scale coke," even if they don't know what it really is.
This article explains what fish scale coke is, how it compares to typical cocaine found on the streets today, what's usually added to fish scale coke, its side effects, and if abusing it requires more intensive addiction treatment.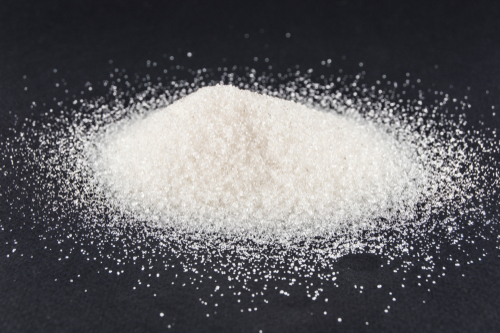 What Is Fish Scale Coke?
Fish scale coke claims to be the purest form of cocaine powder, spanning between 90% and 99.9% purity. This "pure" form of cocaine gets its name from its pearly, luminous, shiny, and almost iridescent appearance, similar to scales on a fish. Most cocaine sold today has been cut with adulterants by drug dealers and distributors to spread their product and reduce costs. Some of these additives include cornstarch, baby powder, and sugar.
However, unless you have a purity test on you while buying cocaine, there's no precise way to test its purity and match its potency to its name. Additionally, most cocaine sold has dropped in purity by 30%, and if a dealer is trying to convince you their coke is the best on the street, chances are they just want you to buy, use, and come back for more, regardless of the high you feel. If someone tries to sell you "fish scale coke," that's shiny or iridescent, chances are something was added to achieve that specific look.
Read more: 10 Tips on How to Quit Cocaine
What Is Fish Scale Coke Cut With?
Just because a gram of cocaine is shiny and looks pure doesn't make it "fish scale." The DEA estimated that almost 70% of the cocaine they seized in 2009 contained levamisole, a chemical used to treat worm infections in cattle, sheep, pigs, goats, and other factory-farmed animals. This chemical is physically similar to powder cocaine and induces amphetamine-like stimulant effects.
Because of its pure white and almost shiny appearance and effects, most people wouldn't know if their cocaine was laced with levamisole. Several studies found that cocaine users who consume levamisole-laced coke developed neutropenia, a reduction in white blood cells which increases infection rates, and dermatological conditions, including contact dermatitis, benign tumors, skin cancers, and psoriasis.
Another study found that boric acid, used in antiseptics and insecticides, was added to cocaine to give it a shinier appearance.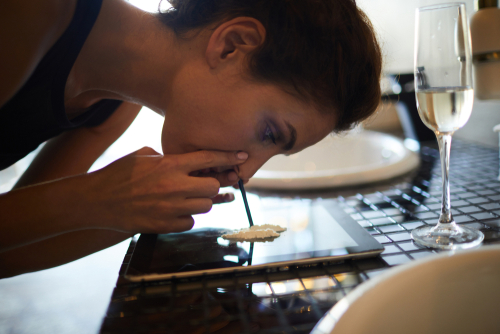 Fish Scale Coke Vs. Typical Cocaine
Compared to typical cocaine, which is usually 60% to 70% pure, fish scale coke is stronger, has zero additives, produces longer-lasting effects, and is two to three times more expensive. Some users say the main difference between pure cocaine and cut cocaine is the prolonged onset time and intensity and duration of the comedown.
Onset: Most cocaine users will continue to use cocaine every twenty minutes or so, depending on how potent their coke is. If it contains a lot of adulterants, users can feel clumps clogging the inside of their nose, and when the effects instantly fade (crash), it can leave users feeling depressed, anxious, and eager for another "bump."
Comedown (crash): With fish scale coke, some users describe it as a better experience with a less severe comedown. However, it can just temporarily extend the feel-good effects and result in an even stronger and terrible crash. It's important to note that cocaine is a stimulant and can keep people awake for hours, which is why most stimulant users begin to show signs of sleep deprivation mixed with anxiety, irritability, and dysphoria. If someone snorts, injects, or smokes fish scale cocaine, the stimulant effects could be more severe and last longer.
Side Effects Of Fish Scale Coke
Since fish scale cocaine is stronger than typical cocaine, its side effects are more common, intense, and longer-lasting. These include:
Extreme panic attacks and anxiety
Intense feelings of paranoia and psychosis
Hyperstimulation and uncontrollable hyperactivity
Severe depression and suicidal thoughts
Increased heart rate and blood pressure
Extreme loss of appetite
Intense nausea
Auditory, tactile (touch), and visual hallucinations
Heart damage
Stroke, overdose, and death
Does Fish Scale Coke Abuse Require Intense Addiction Treatment?
In some cases, an addiction to fish scale coke could require more intense addiction treatment, such as a residential or partial hospitalization program. Someone using fish scale coke for the first time could easily enjoy the intense and euphoric effects and drop everything to try more, compared to most individuals who try typical cocaine and are deterred from a bad experience or costly high.
It's important to note that cocaine isn't physically addictive, and most users don't suffer from physical withdrawal symptoms. However, it is psychologically addictive and becomes the go-to pre-, during, and post-party substance. Cocaine is usually found in party settings, clubs, and bars where alcohol is served, increasing the risk of consuming lethal substance combinations.
However, since fish scale cocaine is very expensive and hard to find, users might turn to other stimulants like meth or prescription amphetamines (Adderall, Ritalin) to satisfy their cravings. This increases the chance of developing an addictive to a substance that does cause dependency and withdrawal symptoms if an individual tries to quit.
Read more: Speedball Drugs: Types, Risks, & Long-term Effects
Cocaine Addiction Treatment In Boston, MA
If you or someone you know uses fish scale coke or has a cocaine addiction, contact East Coast Recovery Center in Boston, MA. Our addiction treatment team is well-prepared to help individuals struggling with cocaine or other stimulants using comprehensive treatment plans. We don't just put our clients in therapy and seclude them from the outside world.
We craft individualized treatment plans that match the needs of everyone who comes in our doors, including holistic therapy methods like breathwork and mindfulness and experiential therapy tactics such as adventure therapy and group excursions. Call today, and one of our admissions agents can help you get started and answer any questions.