If you want to know what cocaine is cut with, chances are you're having second thoughts about snorting a stranger's ambiguous white powder. Anything could be in there, and while most people are complacent with drug dealers adding cutting agents, even a tiny amount of fentanyl or levamisole can lead to disaster.
This short but informative article explains what cocaine is, the most commonly added cutting agents, the side effects of laced or cut cocaine, and how to recognize when something dangerous has been added.
What Is Cocaine?
Cocaine, also known as coke, is a central nervous system stimulant derived from coca plants grown in several Central and South American countries, including Colombia, Peru, and Bolivia. There are two variations of cocaine: cocaine hydrochloride, which is usually in powder form, and crack cocaine, which is in a concentrated rock form. Powder cocaine is typically snorted in parallel lines or small amounts called a "bump" and reaches the brain through blood vessels in the nose. This method of use produces less intense effects with a slower onset.
Crack cocaine is typically smoked since its shape can be placed into a glass pipe and reaches the brain through the lungs following the same path as oxygen. Along with intravenous injection, smoking crack reaches the brain in seconds, building up rapidly and producing an intense euphoric "rush." Other effects of cocaine include increased heart rate, increased blood pressure, insomnia, loss of appetite, dilated pupils, and increased energy.
However, chronic abuse leads to irregular heartbeat, cardiac arrest, convulsions, ischemic heart conditions, stroke, and even death. Snorting cocaine has also led to severe nasal damage, and many individuals have to receive major nasal reconstruction.
Read more: Why You Should Avoid Fish Scale Coke
What Is Cocaine Cut With?
To spread out their product and increase profits, drug dealers and cartels will add or "cut" cocaine with additives and fillers that resemble or mimic its effects, effectively deceiving buyers and hooking them on stronger substances. Estimates and studies found that most cocaine bought on the streets today ranges from 20% to 65% purity. The remaining percentage includes adulterants that are much cheaper than cocaine, and some are added to amplify its usual effects or make it easier to smoke, snort, or inject.
The most common cocaine additives include:
Caffeine
Aspirin
Amphetamine (Adderall, Ritalin, Concerta, Dexedrine)
Methamphetamine
Local anesthetics, such as procaine, lidocaine, and benzocaine
Opioids such as fentanyl, oxycodone, or hydrocodone
Drug dealers will also add visual dilutants that come in white powder form, including:
Boric acid
Laundry detergent
Laxatives
Levamisole
Creatine
Baby powder
Baking soda
Sugar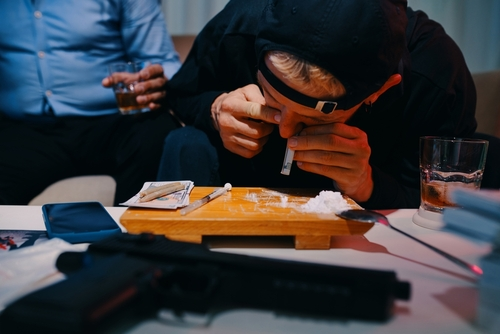 11 Side Effects of Cut/Laced Cocaine
Snorting, smoking, or injecting cocaine cut with:
Caffeine can lead to increased heart rate and blood pressure, insomnia, anxiety, upset stomach, and dizziness. Caffeine can also burn the mucous membrane in the nose if snorted.
Aspirin can lead to stomach irritation or bleeding, allergic reactions, increased risk of bleeding, tinnitus, and gastrointestinal ulcers.
Amphetamines and methamphetamine can worsen every side effect of cocaine since they are all stimulants.
Local anesthetics can cause numbness in your nose, mouth, or throat, allergic reactions, lightheadedness, and nausea.
Opioids, like fentanyl (50 times more potent than heroin), can lead to drowsiness, sedation, constipation, respiratory depression, increased risk of addiction, and overdose or death. Two milligrams of fentanyl is considered a lethal amount, which is comparable to a few grains of salt.
Boric acid, an antiseptic, insecticide, and flame retardant, can lead to kidney damage, diarrhea, skin rashes, abdominal pain, and death.
Laundry detergent can lead to nausea, respiratory irritation, skin irritation, vomiting, and diarrhea. Small pieces of laundry detergent can also clog and damage arteries in the heart, brain, and liver.
Laxatives can cause diarrhea, abdominal cramps, dehydration, and electrolyte imbalance.
Levamisole (a chemical used to kill parasitic worms in farm animals) can lead to agranulocytosis (a condition where the white blood cell count drops significantly), infections, fever, and skin changes like purpura (purple spots or patches on the skin, mouth, and throat).
Creatine, baking soda, and baby powder can lead to gastrointestinal pain, muscle cramps, dehydration, electrolyte imbalance, skin irritation, allergies, and alkalosis (an overly alkaline condition in the body).
Rubbing sugar onto the gums can lead to tooth decay and cavities, and snorting or injecting it could increase the risk of diabetes.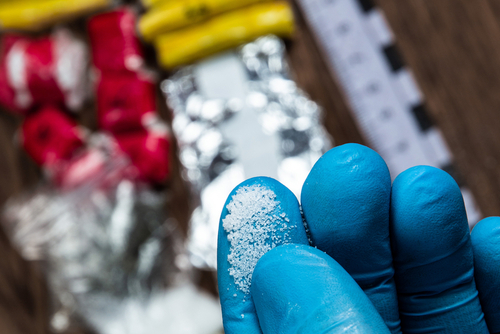 How To Recognize Cut/Laced Cocaine
Pure cocaine comes in a salt form, appearing as small miniature crystals. It's then neutralized with a solvent, such as catalytic antibodies, and converted into a white powder. Most additives make cocaine appear slightly darker, off-white, and even light pink. However, most adulterants are added because of their similar appearance and can be hard to spot without drug test kits, such as fentanyl test strips and NarcoCheck cocaine purity tests. These can be found at needle exchange programs, community outreach centers, and government health department facilities. Sadly, several states have made fentanyl testing strips illegal, directly contributing to overdoses and higher addiction rates. 
Read more: 10 Tips on How to Quit Cocaine
Cocaine Addiction Treatment In Boston, MA
If you or someone you know is struggling with cocaine use, contact East Coast Recovery. As much as we support harm reduction practices, our goal as an addiction treatment center is to help individuals find true meaning and wellness through sobriety. Substance use disorders are diagnosed mental health conditions, and we treat every client who walks through our doors with the respect, dignity, and compassion they deserve. Call today, and one of our admissions agents can walk you through the intake process.