When some people hear the word "cross fading" or "cross faded," their initial thought might point to blending music together. However, in the world of substances and drug abuse, cross fading is a step up from abusing just one substance in a single moment and intensifies and increases the risk of severe side effects and addiction.
This brief article explains what crossfading is, the most commonly combined substances, the side effects of crossfading, the social and physical risks of abusing two drugs, and if you can develop polysubstance dependence.
What is Cross Fading?
Crossfading is when two substances, such as alcohol and cannabis, are combined to boost or counter the effects of both. The term comes from individuals describing themselves while high or drunk as "faded," thus labeling the overlapping effects as "crossed."
Individuals might start drinking alcohol at a bar or club and then smoke marijuana or take an edible later in the evening to "come down." However, alcohol can remain in your bloodstream for up to 12 hours, and the effects of cannabis can peak at the same time. Some individuals take two drugs intentionally, but others can accidentally combine alcohol or an illicit substance with current prescription medication, like Xanax, Adderall, or Ritalin.
One study showed that young adults aged 18 to 23 were the most at risk of combining two substances, with 18% describing it as desirable. While most participants understood crossfading as exclusively combining alcohol with marijuana, 25% described it as combining any drug with alcohol, highlighting the increase in accessibility to multiple drugs. Another study showed that high school seniors who heavily abuse alcohol and marijuana are more likely to use them simultaneously.
Read about: Hydrocodone Vs. Codeine: Painkillers Or Addiction Gateways?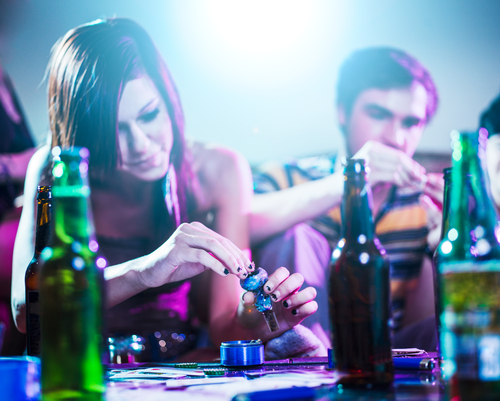 Most Commonly Combined Substances
Alcohol is the most commonly abused and combined substance, but not just with marijuana. Other frequent combinations include:
Alcohol and prescription drugs: A study from the University of Michigan found that people with alcohol dependence are 18 times more likely to misuse prescription opioids like Vicodin, Percocet, and OxyContin. They often mix alcohol with stimulants like Ritalin or sedatives such as Xanax and Valium. Some also combine alcohol with sleeping pills to try to fall asleep faster.
Alcohol and cocaine: Combining cocaine with alcohol can increase the level of cocaine in the body by about 30%. This mix creates cocaethylene, which stays in the bloodstream longer. Additionally, people may consume more alcohol because cocaine can make them less aware of its effects.
Opioids and cocaine: A common example of mixing opioids with cocaine includes speedball, also known as "powerball" or "over and under." Opioids slow down the central nervous system, while cocaine speeds it up. Some users try to use these drugs together to balance the negative effects, like using opioids to calm down after using cocaine. However, this masking effect raises the risk of overdose and complications.
Opioids and benzodiazepines: When these central nervous system depressants are combined, it can quickly lead to respiratory depression, resulting in a potentially fatal overdose. Insufficient oxygen to the brain can cause permanent damage, impairments, or even death. Additionally, older individuals who use benzodiazepines may metabolize these drugs more slowly, increasing the risk of respiratory problems.
Prescription drugs with other prescription drugs: For instance, high doses of the cough suppressant dextromethorphan (DXM) can cause hallucinations, and cough syrup with promethazine-codeine contains an antihistamine that causes sedation. According to the National Institute on Drug Abuse (NIDA), these medications are often misused alongside alcohol or marijuana.
Read about: Alcohol As A Coping Mechanism: Signs, Dangers, & Treatment
Side Effects of Cross Fading
Older studies on the side effects of crossfading noticed that during the first 90 minutes of combining alcohol with marijuana, THC levels increased, and participants described an increased feeling of euphoria. However, these "positive" side effects were not alone. Other side effects included:
Sweating
Nausea
Chills
Poor verbal and motor skills
Disorientation and confusion
Increased anxiety
Increased heartbeat)
Shaking
Struggling to breathe
Throwing up
Risks of Cross Fading
Besides the immediate side effects, crossfading can increase the risk of:
Greening out: "Greening out" describes the experience of taking more marijuana than the body can handle. When alcohol is consumed simultaneously, users can lose track of how much they've been smoking or drinking, increasing the risk of disorientation, nausea, and dizziness. Both alcohol and marijuana use can lead to "orthostatic hypotension," where your blood pressure drops suddenly when you stand up. This happens because THC and alcohol cause your blood vessels to widen, resulting in reduced blood flow to the brain, which can lead to fainting. This can happen unexpectedly, even hours later, and often forces people experiencing a greenout to lie down, increasing the risk of accidents and falls.
Excessive and fatal vomiting: Alcohol can lead to stomach inflammation (alcohol-induced gastritis), causing severe abdominal pain and vomiting due to the production of toxins like acetaldehyde. Alcohol also disrupts inner ear fluids, leading to dizziness and nausea. Marijuana, however, prevents vomiting, which is crucial when alcohol is involved. Crossfading can lead to nausea, but the inability to vomit can result in prolonged discomfort and sickness. The danger of crossfading is alcohol-induced aspiration, where an intoxicated person can't vomit due to marijuana affecting their gag reflex, potentially leading to fatal choking on vomit.
Driving while crossfaded: The NHTSA (National Highway Traffic Safety Administration) has reported that combining alcohol and marijuana use while driving significantly increases the risk of a deadly traffic accident due to an 11% slower retinal response and an increase in tunnel vision. Compared to a driver not using either substance, someone who drinks alcohol and uses marijuana simultaneously faces an eightfold higher risk of being involved in a fatal crash.
Impacted mental health: Both marijuana use and drinking have been linked to a higher likelihood of experiencing anxiety and panic attacks. In a 2014 study, it was found that individuals under the influence of cannabis were significantly more likely to feel paranoid in social situations compared to those who received a placebo. Specifically, 50% of those under the influence experienced paranoia, while only 30% of those on the placebo did. Marijuana users face a 40% increased risk of developing psychosis when compared to non-users. Of particular concern is that frequent marijuana users have a risk of psychotic symptoms up to 200% higher than non-users, suggesting a connection between the amount used and the risk of experiencing psychosis.
Can You Be Addicted To Two Substances Simultaneously?
Abusing multiple substances simultaneously can lead to polysubstance dependence, where your body becomes physically addicted to three or more substances at a time. This situation can happen on purpose, like when someone combines substances to enhance their effects, or by accident, like when a person takes multiple medications without realizing they might interact with each other.
Sometimes, a person doesn't stick to just one kind of drug. They might use different substances at different times to get high from anything without a specific favorite. Officially, polysubstance dependence is defined as abusing three or more substances for at least a year.
Contact East Coast Recovery Center
If you or someone you know is struggling with alcohol, marijuana abuse, or a combination of both, contact East Coast Recovery Center in Boston, MA. Our addiction treatment team is trained to help individuals addicted to multiple substances, helping them detox and overcome each substance one step at a time. You can choose from several levels of care, so you don't need to stay overnight at any facility and can take care of personal responsibilities. Don't wait. Call today to find true wellness and recovery.